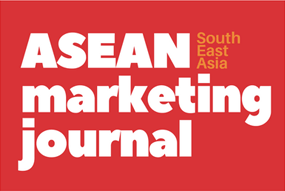 About This Journal
Journal History
Asean Marketing Journal with print ISSN 2085-5044 , Faculty of Economics and Business, Universitas Indonesia is same with Asean Marketing Journal with online-ISSN 2356-2242, Department of Manajement, Faculty of Economics and Business, Universitas Indonesia.
Our publisher is Management Research Center Department of Management, Faculty of Economics, Universitas Indonesia.
By 2015, there is a change in our color of logo. We moved from using grey into orange because we thought that orange could better explain about how AMJ is doing. In this year and forwards, AMJ is optimistic to perform a huge number of improvements to lift itself. The orange color also keeps us motivated and helps us to look on the bright side of life.
Two years have passed, we decided to change our color logo for the second time. Because we perceived the red color as the most appropriate color to personify AMJ. Red means energizing and reflecting our emotions and motivation to take action. It also reflects our strong determination and commitment to continuously improve ourselves into a good-performing journal.
And by 2018, we will adapt the template from Emerald in order to make every paper submitted to AMJ detail and complete.
Principal Contact
Timuthy Ey Maharani
Managing Editor
Department of Management
Faculty of Economics and Business
Universitas Indonesia
Depok, Jawa Barat 16424
Email: amj.ema.feui@gmail.com, amj@ui.ac.id